Collapsible content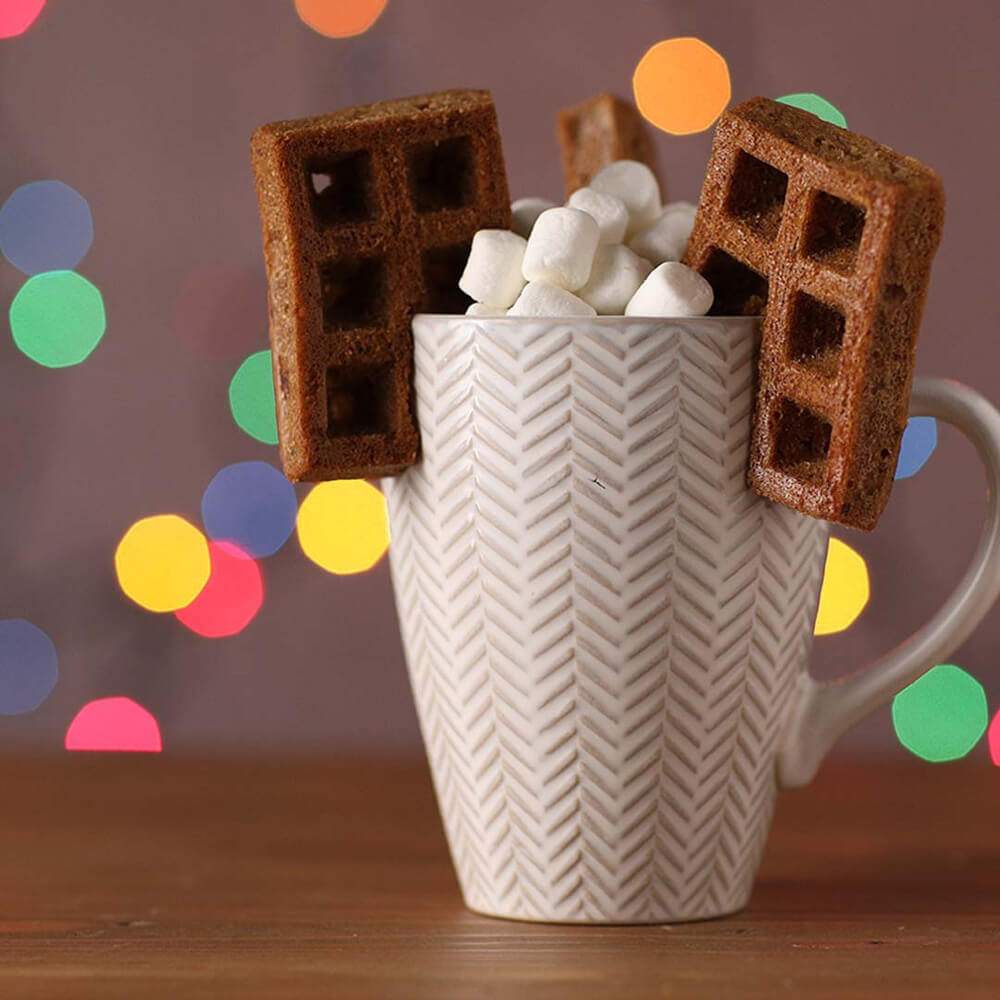 How should I heat my Evergreen waffles?

For crispy waffles, we recommend heating in the toaster on medium or in the oven at 450 degrees, until they are warmed through, about 5 minutes.

For a softer waffle, we recommend heating your waffle in the microwave, until warmed through, about 10 to 15 seconds per side. (We've found that it's easier for Evergreen's tiniest customers to eat softer waffles.)

Remember: all heating should be supervised by an adult!
How should I serve my Evergreen waffles?

Plain is always a good option, especially for those really hectic mornings when you only have a few seconds for breakfast. You also can't go wrong with a little butter and all-natural maple syrup. Or use your Evergreen waffles as a blank canvas and get creative! Nut butters! Honey! Cream cheese (dairy or dairy-free)! Jams! Fresh fruit! Whipped cream! Ice cream! The opportunities are endless. Check out our Instagram feed for inspiration.
How is Evergreen different than other frozen waffle brands?

As a working mom, our founder needed a quick and easy breakfast for her growing family but wasn't willing to sacrifice nutrition, quality, or - importantly! - taste. She knew frozen waffles were a toddler favorite, so she started looking at "better-for-you" options in the frozen food aisle in grocery stores. When she couldn't find a brand that checked all of her boxes, she started developing her own recipe in her home kitchen.

She was determined to strip out all the "extras" so often found in processed foods. She was making the waffles for her family after all, including her toddler, so she cared deeply about what she was putting in them. Instead of artificial flavors or even "natural flavors," she used real fruits, vegetables, nuts, and spices. Instead of white wheat flour, she used whole grain wheat flour. Instead of refined sugar, she used honey. Today, Evergreen frozen waffles are available far beyond our founder's home - in major grocery chains and for delivery nationwide - but they are still made from scratch, with no more than 12 ingredients, using her original, family recipe.
What does the name "Evergreen" mean?

Evergreen means "universally and continually relevant; not limited in applicability to a particular date or event." At Evergreen, we don't subscribe to fad diets. Who can keep up? Instead, we create products based on our belief that nutrient-dense foods made from real ingredients will always be key to a sustainable, healthy lifestyle.
How should I store my Evergreen waffles?

Your Evergreen waffles should be stored in the freezer. Evergreen waffles are a baked good, like a muffin, so they won't spoil immediately upon defrosting. However, because we don't use any preservatives, storing them in the freezer will extend their shelf life.
The "Best By Date" on the bottom of the bag has passed. Are my Evergreen waffles still safe to eat?

Yes! As long as you properly store your waffles in the freezer, the "Best By Date" is just that - a best by date. After the best by date, your Evergreen waffles may start to accumulate more freezer burn, but they will still be tasty for at least another 3 months.
What stores carry Evergreen?

Evergreen waffles are currently sold in Sprouts nationwide, Whole Foods stores across the Midwest and New England, Bristol Farms in California, and more. Check out this map for all of our retail partners.
What if my local store doesn't carry Evergreen?
What do I do with the dry ice when my box of Evergreen waffles arrives?

Do not touch it or eat it! Leave any remaining dry ice in the box and put it outside or in a well-ventilated space to finish evaporating. Do not put it in a tightly closed container!
What if there's no dry ice left when my box of Evergreen waffles arrives?

That's okay, too! As long as your waffles are still cold to the touch, just pop 'em in the freezer as soon as you can. If they're warm to the touch, please email info@eatevergreen.com. Unfortunately, we can't control FedEx or the weather, and if your delivery is delayed or there are extremely hot temperatures, the dry ice may not be able to keep up. We will always send another box of waffles on us.
Is the insulation layer recyclable?

Yes! Please recycle both the box and insulation layer.